We are sure all of you have some time used various tools to create digital newspapers and paper ones, too.
Our first tip for teachers focuses on creating a newspaper using Google Docs, a very simple tool which allows us to easily design attractive, collaborative and successful papers written by any grade reporter.
Steps:
1. Explain what Google Docs is if you are about to first use it with your ESL students, as well as what it is for and how it can be a nice writing collaborative tool. Students are bound to grasp everything quickly and it should not take over an hour to get them going.
2. Choose an adequate template to design the newspaper:
Student newspaper
is a good one.
3. Let students pick up their roles as reporters and decide on the newspaper sections, number of issues published, frequency, and so on.
4. Allow some time for students to gather information, search for pictures, draft their articles and contribute to the newspaper. Do not forget that it is important to respect licences and quote sources for images and any other multimedia elements that you may include in your publication.
5. Arrange self-assessment, peer to peer assessment and finally your own assessment. Rubrics are a nice means for the three kinds of assessment. You might like to use
Rubistar
to compile your own rubrics.
6. If needed, do some final editing, download it as a pdf file and hand it out to everybody at school.
Youpublisher
also provides you with the chance to have a digital publication.
The final output might look something like the example below, an idea by
Laura Chesebro
:
The Baseball Gazette
.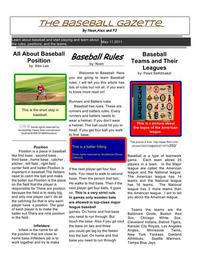 Ready to put this tip into practice in class?
Why don't you compile your own classroom newspaper? We'd love to gather your newspapers here, all your contributions are welcome!
Just make a comment here or mail us with the output you designed with your students after having followed the steps of this tip.
Good luck!